"The main goal of this government is to continue to reduce poverty in our country. Year after year we cut it down but there is still work to be done to eradicate it. To address it, you have to accept that poverty is not a perception but a reality that exists around the world, including in Malta. "
This was stated by the Prime Minister Robert Abela in a consultation meeting he had with the Alliance Against Poverty in the Auberge de Castille in connection with the Budget for next year.
The Prime Minister said the wage supplement and the voucher scheme were measures intended to help the pockets of the workers. On the wage supplement, the Prime Minister made it clear that it pays employers to pass it on to workers.
"It is important that the strong sum of € 800 is passed on to the worker. It is a sum to help businesses to alleviate their financial burden but it is intended for the pocket of the workers ", said Dr Abela.
Robert Abela concluded by saying that we can say that we have a compassionate and just society when we think of those who are at the very bottom of society and those who are experiencing poverty. He stressed that poverty is a matter close to his his heart and said that as a government whose social soul is a foundation in which he believes, he will continue to work to continue eradicating poverty in our country.
Matthew Borg from the Anti-Poverty Alliance presented a number of proposals to the government for Budget 2021. He said that these proposals focus on the poor and to have an inclusive economy.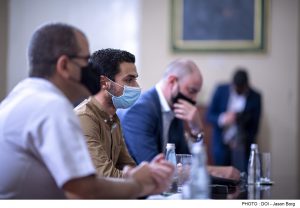 He spoke about the voucher measure and said it hit the nail on the head because the money went to people. On the wage supplement measure he said it saved a lot of jobs. However he appealed to ensure that the benefit passes to the workers.
While acknowledging that poverty reduction has been recorded from year to year, he called for more work and for keeping the political discourse at the center of the poor.