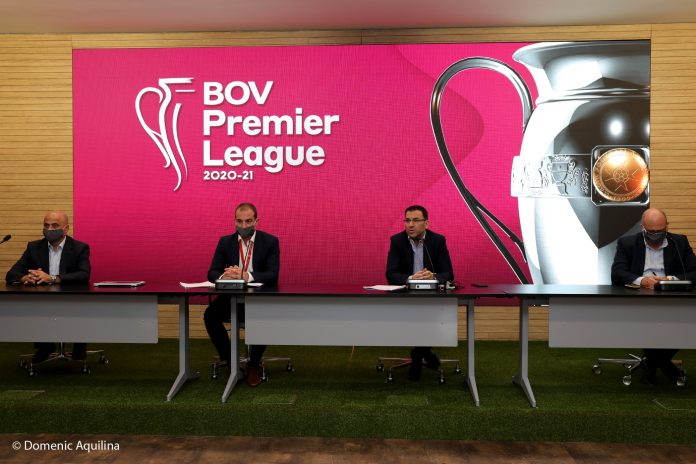 With the 2020/21 BOV Premier League kicking off on Saturday, the Malta Football Association today organised a press conference to provide the latest updates on the preparations for the new domestic season.
The 2020/21 BOV Premier League matches will be played behind closed doors until further notice due to the current COVID-19 situation, in accordance with the Malta FA medical and operational protocol and the guidelines and measures issued by Public Health and SportMalta. Contact-sport training in Malta resumed on July 1 and the actual events on July 15 after the government lifted the COVID-19 restrictions on sports activity.
Dr Angelo Chetcuti, the Malta FA General Secretary, spoke about the on-going efforts of the different departments within the Association and other stakeholders to tackle the difficulties caused by the coronavirus pandemic, emphasising the need to adapt to these challenges by way of minimising the disruption to local football while adhering to health and safety guidelines.
"After seven months without domestic matches, we are only a few days away from the return of the BOV Premier League in these particular circumstances," Dr Chetcuti said.
"A great amount of work has been carried out to be in this position and the work will possibly increase in the coming months as the situation is still fluid.
"When drawing up the Return to Play Protocol, we tried to address different scenarios. Our preparations have also been helped by the experience gained during the matches from the UEFA club competitions and the international commitments of the national teams earlier this month but the situation is still challenging and the co-operation of all those involved – Malta FA, clubs, stadium staff, match officials and the media is crucial in this aspect."
The main points of the protocol, which can be downloaded HERE, were explained by Stephen Azzopardi, the Malta FA Director of Football Operations.
LIVE STREAMING OF NON-TELEVISED MATCHES
As the matches are being played behind closed doors, the Malta FA has invested in the installation of remote cameras at four stadia to livestream the non-televised matches, thus giving local football followers the opportunity to watch all matches online or on television.
Matthew Spiteri Gonzi, the Commercial Director of the Malta FA, explained that the livestreaming service will be on a dedicated Malta FA digital platform with the non-televised fixtures of the opening three BOV Premier League matches to be offered free of charge. The Malta FA will be evaluating the response to this new service over the coming weeks before establishing a match subscription fee.
The cameras have been installed at the National Stadium, the Centenary Stadium, the Hibernians Stadium and the Victor Tedesco Stadium. There also plans to livestream selected BOV Challenge League matches during the season.
The new official match ball of the 2020/21 BOV Premier League – Puma Team Final, and the new kits of the match officials, supplied by Italian sportwear company Macron, were unveiled during today's press conference.