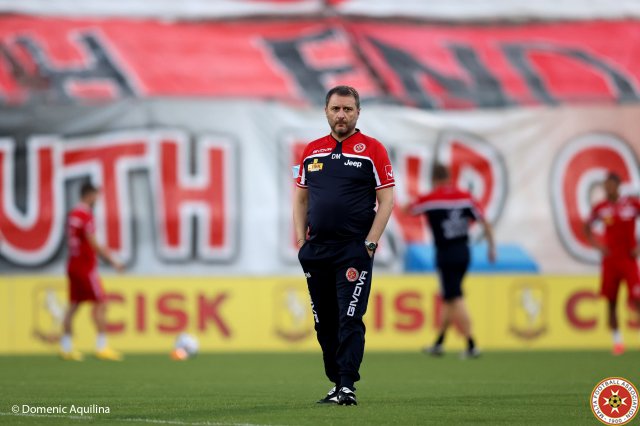 Malta coach Devis Mangia is backing his players to bounce back from the last-gasp defeat to the Faroe Islands as the national team face Latvia in their first home outing of the 2020/21 UEFA Nations League tonight at the National Stadium (match to be played behind closed doors).
"This is a good moment to get to know the players better and what their reaction will be," Mangia said.
"Certainly, after the game against Faroe Islands, we were a little bit down… the atmosphere was not good but that is not normal. Tomorrow is an opportunity, also for me as I'm curious to see the reaction of the team after the match against Faroe Islands.
"I want to see continuity from a certain point of view and clearly something different in other aspects of our performance."
Mangia is bracing himself for a tough challenge from Latvia who opened their UEFA Nations League Group D1 campaign with a goalless draw at home to Andorra.
"Latvia will be another difficult game, perhaps more difficult than the match we played in the Faroe Islands," Mangia said.
"They are a team with good physical skills but also in terms of players. They have changed the coach and their playing philosophy. They also have good technical players – we know it's going to be difficult but we will play our game."
Malta had their MD-1 training session at the National Stadium this evening, 24 hours after returning from Torshavn. Mangia and his coaching staff have been monitoring the players' physical condition and their recovery.
"It is possible that we change something, also considering that from a physical perspective, we can encounter problems because playing two games in 72 hours, coming from a long period of inactivity and the lack of friendlies (due to COVID-19), is something that must be taken into consideration," the Malta coach said.
Although Mangia was pleased with Malta's performance and the attitude shown by his players in the Faroe Islands opener, he made it clear that we can never be happy after a defeat.
"We can't be happy, we need to improve because we have lost the game," he said. "We have to increase our efforts and we must change this mentality.
"Asked to comment on the negative aspects of Malta's showing in the 3-2 defeat to the Faroe Islands, Mangia said: "When I speak about the performance, I prefer to talk about the team rather than single out players. We make mistakes as a team not as individuals. If there are things to correct, I prefer to do to it in the dressing room or at the meeting room.
"We have to correct some things but it is also true that we could only do this through video analysis because we don't have enough time to do it on the pitch. However, in terms of attitude and the mentality to play football, we don't have to change anything. We need to improve and try to have more control of the game with all respect for our opponents."
Mangia has not made changes to the 23-man squad he selected for the Faroe Islands match in which two players – Paul Mbong and Teddy Teuma – made their debut while Jurgen Degabriele scored his first competitive goal for Malta.