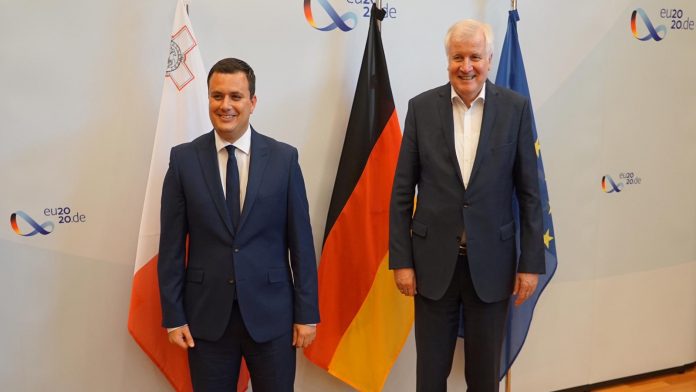 Minister for Home Affairs, National Security and Law Enforcement Byron Camilleri held a meeting with the German Minister of Interior Horst Seehofer in Berlin.
The ministers discussed issues of bilateral interest as well as issues pertaining to the European Union. The discussions took place in view of the fact that Germany currently holds the Presidency of the Council of the European Union.
The discussions focused on security in the Mediterranean and the role of the European Union in favour of peace in the region. Minister Byron Camilleri explained how stability in the Mediterranean region has many benefits for the European Union. He reiterated the belief that the Mediterranean's potential can be better utilised for the benefit of the people in Europe and North Africa.
The situation in the central Mediterranean and the need to step up the fight against criminal organisations, particularly those that endanger many lives during the illegal journey to Europe, were also discussed. The Maltese minister stated that this issue can only be resolved if the European Union continues to provide direct support to transit countries, including Libya.
Minister Camilleri acknowledged Germany's commitment to helping Malta address the problem of illegal migration, especially regarding the relocation of migrants from Malta. The minister remarked that more needs to be done for member states of the European Union to show the same level of commitment that Germany is showing to Malta.
The talks also focused on other areas of collaboration between the two countries, including the strengthening of the asylum process and the return of rejected asylum seekers to their countries of origin.
Minister Camilleri is in Berlin to attend an Informal Meeting of European Union Defence Ministers