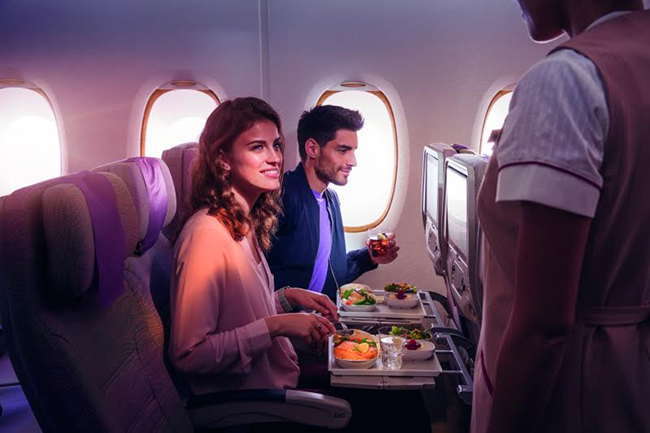 Emirates is offering attractive promotion deals on its Economy Class fares from Malta to
22 fascinating destinations in the Middle East, Asia, Africa and South Pacific. The offer
includes reduced fares of up to 25% on selected popular destinations such as Bangkok,
Bali, Shanghai, Tokyo and Johannesburg among others.
Bookings have to be made by 30 November 2016 for outbound travel by 30 June 2017.
Customers can enjoy special return airfares from Malta, inclusive of fuel surcharge and tax
starting from €606 to Kuwait.
Passengers looking to travel further will benefit from return flights to Accra from €704;
Bangkok starting from €738; Bali from €965; Beijing from €747; Delhi from €707;
Guangzhou from €790; Hanoi from €805; Ho Chi Minh City from €790; Hong Kong from
€810; Johannesburg from €742; Kuala Lampur from €749; Kuwait from €606; Lagos from
€704; Manila from €882; Mumbai from €720; Osaka from €834; Phuket from €827; Seoul
from €795; Shanghai from €743; Singapore from €790; Tokyo from €779; and Rangoon
(Yangon) from €965.
A supplement of €20 will apply for departures on Friday and Saturday. Certain blackout
dates apply and terms and conditions can be viewed on www.emirates.com/mt
Customers may also have the opportunity to experience Emirates A380 aircraft on flights to
Far East destinations, such as Beijing, Shanghai, Hong Kong, Guangzhou, Bangkok, and
Seoul.
Travellers will enjoy Emirates' generous baggage allowance of up to 35kg in Economy
Class, Emirates inflight entertainment system on demand, with 2,500 channels of
programming, and onboard toys for young travellers to collect and enjoy.
The reduced Economy Class fares can be purchased either online: www.emirates.com/mt,
respective travel agencies or directly from the Emirates Sales Office at MIA (Departures
Lounge) tel 2557 7255.
Emirates flies from Malta to Dubai on a Boeing 777-300 via Larnaca in Cyprus on
Mondays and Wednesdays, with the option of stopping in Larnaca. On Sundays,
Tuesdays, Thursdays, Fridays and Saturdays the airline operates the Dubai – Malta route
on a circular routing via Tunis in Tunisia, while the return flight is direct from Malta to
Dubai.