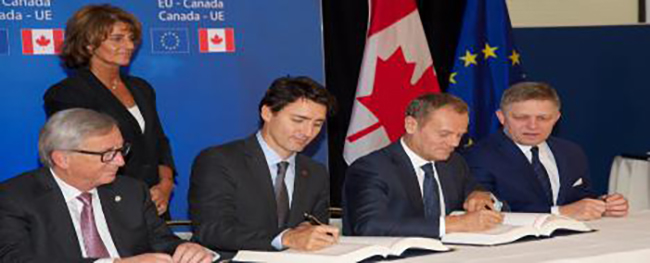 On 30 October 2016, EU leaders and the Canadian Prime Minister met in Brussels for the 16th EU-Canada summit.
Donald Tusk, President of the European Council, Jean-Claude Juncker, President of the European Commission, Robert Fico, Prime Minister of Slovakia holding the Council rotating presidency, and Justin Trudeau, Prime Minister of Canada signed the EU-Canada Comprehensive Economic and Trade Agreement (CETA) at the summit.
CETA is the most comprehensive and progressive trade agreement between the EU and Canada. Itremoves over 99% of tariffs that currently hinder trade between the EU and Canada. It is expected to increase bilateral trade by €12 billion per year, and to generate growth and new jobs on both sides of the Atlantic.
The leaders also signed the Strategic Partnership Agreement (SPA). The SPA deepens cooperation between the EU and Canada in fields such as foreign policy, crisis management, security and defence, energy and climate, enhanced mobility and people-to-people exchanges.
They also adopted a joint declaration on the EU-Canada partnership.