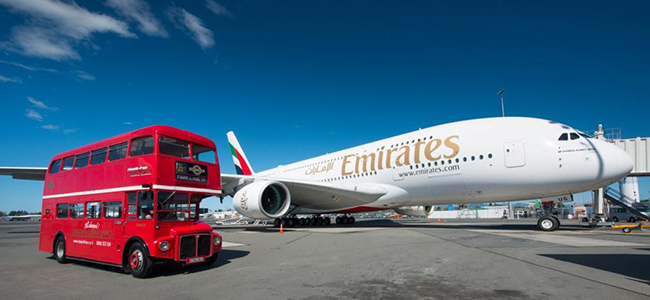 With Christchurch and Auckland services upgraded, Emirates now has five daily A380s to New Zealand Emirates notched up a momentous double-header when it introduced its flagship A380 double-decker aircraft on two New Zealand routes on the same day.
The airline's step-up in capacity on both its Christchurch service and its non-stop Dubai-Auckland flight means that Emirates now has an all-A380 offering across its five daily New Zealand services.
On the same morning, flight EK448 sets off from Dubai on its 16-hour journey to Auckland, on the non-stop scheduled A380 route previously operated by Boeing 777-200LR aircraft, while an Emirates A380 takes off en routeto Christchurch as the airline upgraded the route to New Zealand's main South Island gateway from a Boeing 777-300ER operation.
As well as the non-stop route, Emirates currently also operates three other daily A380 services between Dubai andAuckland via Australia (Sydney, Melbourne or Brisbane).
Emirates is the first airline to offer regular scheduled A380 services to and from Christchurch with the upgrade of thecurrent daily Christchurch service, which will enable passengers to travel all the way between Dubai andChristchurch, with just one stop in Sydney.
Known as the Garden City, Christchurch is the main gateway to the South Island and is set on the Canterbury Plains.
The picturesque Avon River runs through the middle of the city of more than 380,000 residents. The banks of the river feature cycle paths, the green expanse of Hagley Park and the Christchurch Botanic Gardens.
Other tourist attractions include the International Antarctic Centre, the Christchurch Art Gallery and the start point forscenic journeys on the Trans Alpine passenger train.
Emirates is the only airline offering year-round scheduled A380 services to and from New Zealand.
All daily A380 flights provide connections in Dubai with direct Emirates flights to and from 38 destinations in Europe, including Malta, as well as a number of cities in Africa and the Middle East.
All New Zealand services will continue to offer three classes of travel – First, Business and Economy, with generous free baggage allowance (up to 35kg in Economy, 40kg in Business and 50 kg in First Class).
On Emirates' A380s, First Class passengers can look forward to quiet luxury in the comfort of their private suites andenjoy the industry's only Onboard Shower Spa. First Class and Business Class passengers can socialise and samplecanapés and cocktails at the popular Onboard Lounge and passengers in all classes can enjoy the gourmet cuisine,
Emirates' award-winning inflight entertainment, ice, with more than 2,500 channels and free Wi-Fi, which is availableon all of Emirates' A380s.
Emirates operates daily scheduled flights between Malta and Dubai on a Boeing 777-300 aircraft. Emirates flies twiceweekly to Malta, on Mondays and Wednesdays, via Larnaca in Cyprus, and on Sundays, Tuesdays, Thursdays,Fridays and Saturdays the airline operates the Dubai – Malta route on a circular routing via Tunis in Tunisia. Thereturn flight flies direct from Malta to Dubai.
Tickets can be booked online through www.emirates.com or authorised travel agents.