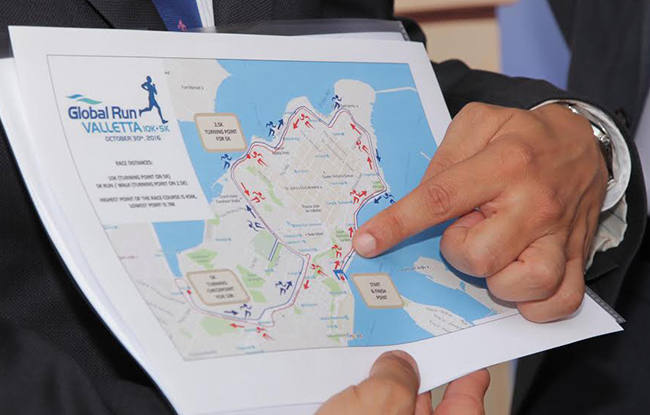 Adrenaline rush can make even the most veteran runners forget about time. The participants of Global Run Valletta (GRV) will have the chance to take home prizes that will let them enjoy their runs without losing sight of their next appointment.
Being organised on Sunday 30 th October by Global Ports Holding – the world's largest cruisemport operator and the majority shareholder in Valletta Cruise Port – GRV 2016 features a 10Kmrun, a 5K run and a 5K walk on a course so riveting, registrations to the event have been fully booked and closed one week from the starting time.
In the age category, the top three winners will vie for a Garmin Vivoactive HR+, a Vivosmart HR+, or a Vivofit 3 specialised running watches. Men and women will be awarded separately.
In the general category, the top five winners from men and women groups each will win
either a Garmin Forerunner 735XT, a Forerunner 630, a Forerunner 235, or a Forerunner 230 wearable devices, as well as an Apple iPhone 7 (32GB) as the top prize.
As an added incentive, an athlete who wins an award from the general category will not be
eligible for an award in the age groups, thus giving opportunities for more athletes to win a
prize. However, each participant who completes the route – whether running or walking – is
awarded a unique medal especially minted for this occasion. The age categories are: 18-29,
30-39, 40-49, 50-59, and 60 plus with ages calculated as on the day of the race.
"The public response to our call to join and celebrate the splendour of Valletta while at the
same time raise funds for Puttinu Cares has been simply overwhelming. The fact that
registrations reached the target for a first time event highlights the attraction of Global Run
Valletta," said Stephen Xuereb, Chief Operating Officer of Global Ports Holding and Chief
Executive Officer of Valletta Cruise Port.
All the monies collected will be donated to Puttinu Cares who has announced to use the funds towards the construction of a brand new housing project for Maltese patients and the relatives supporting them in central London.
"On behalf of Puttinu Cares and our event partners, I thank all those who have registered to lend us their support," said Dr Victor Calvagna, President of the Puttinu Cares Foundation.
GRV 2016 is a family oriented event, with spectators expected to be present on Sunday to
cheer on their loved ones or to simply absorb the breathtaking views from the starting line at the Valletta Waterfront.
Organisers say anyone who wants to act as marshals along the route can get information by e-mail: [email protected]
Meanwhile, MCP Car Parks will switch on the lifts at 06:45am so people may park their
vehicles at MCP Floriana. Vehicles can also be parked at the Atrium Car Park, the parking
area adjacent to Q Bar, as well as opposite the Old Coleiro Winery.
Race kits can be picked up on Saturday 29 th October from 09:30am till 06:00pm with a race briefing at 05:00pm. The last kit delivery ends on Sunday 30 th October at 07:45am.
Global Run Valletta will be a new race promoting running and active lifestyle, as well
as positioning Malta on the map for international road races. Past Global Runs have been held in Kotor, Montenegro and Bodrum, Turkey. This high-quality event will be held in
accordance with the regulations of the Malta Amateur Athletics Association (MAAA) and the
International Association of Athletics Federation (IAAF).
Participation in a dedicated photo competition 'GRV – Sports & Tourism' is still open. The closing date for the competition will be Friday 4 th November 2016 at 12:00 (Malta time).
Prizes include cash awards and certificates while the top entries may be featured in an
exhibition. Entry and consent forms may be obtained from www.globalrunvalletta.com/photocompetition
Latest on Global Run Valletta 2016 can be followed on facebook.com/globalrunseries and
instagram.com/globalrunseries